Hair Transplant: Doctors & Staff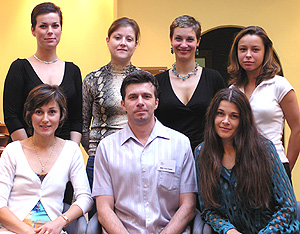 The GHO Clinic Prague has a highly specialised medical staff. Its members have undergone training in the Netherlands directly under the guidance of Dr. Coen Gho and are capable of applying in full the precise and unusually labour-intensive GHO method.
MUDr. Peter Hajduk


MUDr. Petr Hajduk is a recognised expert in the field of hair transplant. He has undertaken over 1,800 FUE hair transplants and over 2,000 strip method transplants. Dr Hajduk worked in the years 1995-1997 in the Gallagher Medical Institute, Philadelphia, USA, on the development of methods of follicular grafting. After his return he participated in the establishment of two centres dealing with hair transplants (in Kosice and Prague). Since 2003 Dr Hajduk has been cooperating closely with Dr Coen Gho, MD, who originated the GHO method, in research on hair transplantation and on the opening and operation of the affiliated GHO Clinic Prague. Dr Hajduk is involved in every hair transplant undertake at the clinic, in close cooperation with the rest of the experienced team.
MUDr. Vladena Fifkova - dermatologist


In the GHO Clinic Prague she is the chief consultant in the sphere of conservative treatment. She participates in the research into the use of stem cells in the treatment of alopecia within the framework of GHO Holding.





MUDr. Jarmila Hudakova - plastic surgeon


Dr. Hudakova is plastic surgeon - consultant for posttraumatic alopecia. More than 20 years of cosmetic and plastic surgery experience including interships at the foremost European plastic surgery clinics.


About Us |Contact us|Testimonials|Site map|Links|Prague Information

Hair Transplant Information|FUE Hair Transplant Method|FUE Hair Transplant Treatment|Biofibre Hair Implant|Female Hair Loss|About Hair Loss|Compare Different Hair Transplant Methods
Cosmetic surgery Information|Eyelid Surgery|Ear Surgery|Nose Surgery|Face & Neck Lift|Aptos Thread Lift|Tummy Tuck|Liposuction|Breast Surgery|Arm Lift|Varicose Vein Surgery|Snoring treatment|Botox|Fillers|Sweating treatment
Dental Surgery Information|Dental Exams|Teeth Whitening|Crowns, Bridges, Veneers|Root Canal Surgery|Tooth Fillings