Biofibre Hair Implants
The Biofibre hair implant system (produced by Medicap s.r.l.) is a revolutionary artificial hair that is implanted into the scalp as a replacement for natural hair. The patented system is provided by several leading clinics around the world. Dr Hajduk and the staff at GHO clinic are specially trained and certified to provide the system.
Biofibre can make one look younger and permits an active, sporting lifestyle. The hair is an artificial substance that looks like natural hair. The implant give full hair thickness. It does not grow. The colour or wave of the hair cannot be changed. It can be washed and dried like normal fair, and must be washed specially under the maintenance requirements.
It can be done at once to give a full head of hair and natural hairline immediately, or can be done gradually depending on your preference. It can be combined with transplants and original hair.
Strict maintenance requirements: Biofibre has a strict maintenance program that must be followed, involving (i) careful cleaning of the scalp with special product every 1 to 2 days and (ii) check-up at a Biofibre clinic every 30-90 days (depending on patient). It is essential to follow the strict maintenance program in order to maintain the health of the implanted scalp. You should not undergo the treatment without being entirely sure you can do so. The maintenance is particularly important for men who, due to more sweating of the scalp than women, are more prone to infection if the maintenance is not carried out correctly.
Matched to your existing hair: Your implants will be matched to your existing hair. The hair is soft, flexible and fine with a diameter of 0.080mm. It comes in 13 standard colours, other available on request. Standard length is 15cm, longer on request. It comes in straight and 3 different types of wave or curl.
Pre-treatment test: A pre-implant test of 100 implants is carried out one month before treatment to test for sensitive reaction to the fibres. Clinical trials have shown 1% of patients to be sensitive to the fibre and therefore not suitable for the implants.
Implant of Biofibre: The fibre is implanted into the scalp with a special instrument. The strand ends with a reversible know. The treatment does not involve pain, bandages or stitches and does not require time off work for healing. Can implant up to 600 fibres per day, so treatment can take several days. Treatment to cover the whole head may take 6,000-8,000 implants. Recovery of the skin after implant takes 2-3 days.

Removable: The fibre can be removed with a special instrument with no scars.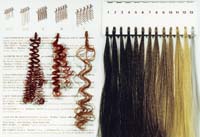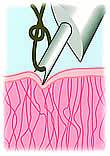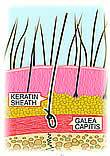 About Us |Contact us|Testimonials|Site map|Links|Prague Information

Hair Transplant Information|FUE Hair Transplant Method|FUE Hair Transplant Treatment|Biofibre Hair Implant|Female Hair Loss|About Hair Loss|Compare Different Hair Transplant Methods
Cosmetic surgery Information|Eyelid Surgery|Ear Surgery|Nose Surgery|Face & Neck Lift|Aptos Thread Lift|Tummy Tuck|Liposuction|Breast Surgery|Arm Lift|Varicose Vein Surgery|Snoring treatment|Botox|Fillers|Sweating treatment
Dental Surgery Information|Dental Exams|Teeth Whitening|Crowns, Bridges, Veneers|Root Canal Surgery|Tooth Fillings